ABOUT
Cegid is a leading player in the digital transformation of companies and public entities, improving the performance of its customers with its cloud services and enterprise software.
Cegid offers solutions in the fields of finance, tax management and human resources, as well as vertical business solutions for the retail, manufacturing, trade and services sectors, the accounting profession and the public sector. Leveraging an ambitious innovation strategy, Cegid's solutions integrate the new ways people use technology, from mobility, cloud-based services and paperless documents to data analysis and collaborative industry platforms. Cegid is an international group with more than 2,200 employees located throughout France and in 15 other countries. Serving more than 120,000 clients and 430,000 users, including over 150,000 in SaaS mode.
Keep reading to learn more about Retail Information Systems (RIS) Software Leaderboard highest ranking Company for 2016.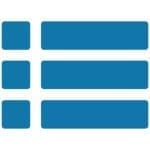 Inventory and Merchandise Management
Deliver Actionable
Insight
Understand Customers &
Build Loyalty