Cegid Retail Y2 Unified Commerce System
Unleash Your Retail Potential
Cegid is a leading player in the digital transformation of companies and a provider of cloud services and enterprise software to fashion, beauty and specialty retailers worldwide. Cegid focuses on omnichannel retailing, including POS, mobile POS, inventory and replenishment, clienteling, CRM and loyalty, as well as business intelligence — all within a single, centralized database that works in real-time. The award-winning platform allows retailer to deliver a personalized experience and gain a holistic view of their shoppers, products and retail chain. RANKED #1 RETAIL SYSTEM PROVIDER in RIS LEADERBOARD.
Keep reading to learn more about Retail Information Systems (RIS) Software Leaderboard highest ranking Company for 2019.
With today's hyper-connected culture you need a POS system that digitizes your stores and connects offline and online purchases. Cegid Retail Y2 POS and Store Management upgrades your customer service by delivering an omnichannel store solution that builds an experience around your customers desires.
Technology is driving a connected commerce where customers expect an effortless shopping experience across all channels. Order management and fulfillment are a key component of Cegid Retail Y2, with services like web to store and store to home delivery becoming the norm.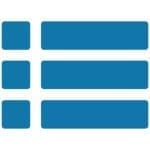 Inventory & Merchandise Management
Cegid Retail Y2 Unified Commerce System gives you the power to keep customers happy by analyzing and managing inventory in real-time, based on shopper demand. Increasing inventory accuracy drives revenue, and generates a greater return on investment.
Mobile commerce has introduced a new, connected consumer who wants a personalized shopping experience. Cegid Retail Y2 Mobile transforms your in-store staff into brand ambassadors. By giving them the freedom to engage with your customers and arming them with product and stock information, they're free to focus on the customer.
Deliver Actionable
Insight
Cegid Retail Y2 Intelligence captures and consolidates key retail data and then presents it in a visual way that makes sense. You receive up-to-the-second information to help you make more informed decisions in real-time that improves performance and boosts your bottom line.
Understand Customers &
Build Loyalty
Cegid Retail Y2 Mobile Clienteling gives you a 360° view of your customers. Clienteling gives you access to customer sales history, loyalty programs, campaign ROI and abandoned shopping carts. You also see your customers' social media interactions with your brand.