Simplify the Checkout Process with Self-Checkout Kiosks Built for Retail
You may not have noticed it, but the popularity of Self-Checkout Kiosks is growing. It's also expected to keep growing—and fast. The number of retail kiosks in use has increased by more than 400% since 2016; that's a trend that shows no signs of slowing down. In fact, experts say the market for these machines is set to expand tenfold over the next two years alone!
Here is the major reason why: Kiosks offer a quick and convenient transaction experience for both the retailer and the customer.
Kiosks are designed to speed up transactions, providing customers with a consistent checkout experience at any time of day or night, and they allow retailers to offer information about products or services in their stores in a way that can't be replicated by other methods of marketing.
Here's why you should use kiosks: They're fast! Kiosk systems allow shoppers who have items in their cart to complete their transactions quickly without needing assistance from store associates. A study by NCR found that self-checkouts reduced average wait times by 33 percent when compared with traditional cashier lines; this means more satisfied customers and happier employees.
Self-checkout kiosks are a prime example of how technology has transformed the shopping experience for consumers.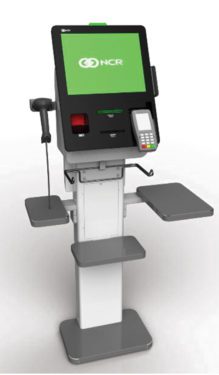 They're designed to function as an employee, handling customer transactions and other tasks that are time-consuming for employees to perform. Additionally, they allow stores to reduce labor costs while maintaining a high level of service in their stores.
Checkout Kiosks can handle most customer-facing tasks associated with retail shopping experiences by:
Scanning items with barcodes on the label or package (including multiple items at once)
Taking payment from cash and credit cards/debit cards/gift cards/store rewards programs (these modes also include self-checkout systems where customers scan their own items and process payment themselves)
Handling returns
There are many benefits for retailers that have deployed self-servicing machines within their stores.
The first is a reduction in labor costs, which can be substantial depending on the store's current staffing levels and location. In addition, there is a concomitant increase in customer satisfaction as customers find they can get through checkout faster while still receiving excellent service from the staff who remain available to help them when necessary. Finally, this also increases sales due to increased efficiency at checkouts and because customers are more likely to make impulse purchases when they get out of line.
Self-checkout kiosks provide multiple benefits for both customers and retailers alike.
If you're a retailer looking to optimize your customer experience, a self-checkout kiosk might be the perfect solution. Kiosks allow customers to check out faster and more efficiently than traditional cashiers. The average time it takes customers to check out is just under 4 minutes. That's around twice as fast as it takes them when they have another person ringing up their items and bagging them!
So there you have it. The retail kiosk market is booming and for good reason. Retailers are seeing the benefits that come from deploying self-service machines within their stores; customers love them because they're convenient, fast, and easy to use. As technology continues to advance, expect to see more self-service options emerge in our daily lives (and hopefully less waiting!).
Contact your account manager today to learn more about Kiosk options available from RCS!